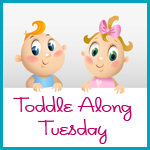 I am really digging this weeks Toddle Along Tuesday theme of Blooper/Outtake pictures because I have a TON of those. You know those photos you don't post on Facebook because you look awful at that angle or your kid is making a really strange face those are what we are talking about.
I definitely edit out pictures where I don't feel like I look as put together as I could be or the Little Lady has boogers hanging out, but life isn't perfect, but that's life and life is messy so we may as well show it off.
Someone forgot to zoom out before taking a self portrait. I love home Mckinley is looking at me like I am nuts. She looks at me like this a lot.
Fun times at Jen Jen Graduation (I accidentally wrote wedding earlier and had to come back and change it when my sister who is engaged and getting married next March commented saying she didn't remember getting married yet I am just a little excited about her getting married.) Real ladies roll around on the dirty hospital floor in their nice dresses.
The giraffe diaper hanging out cracks me up the most. She was not too happy about going back inside.
Whoa Car Car
I really need to start posting more of these pictures because they are hilarious!