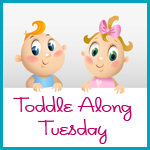 Today's Toddle Along Tuesday topic at
Growing Up Geeky
is Obsession
And no it's not just an awful smelling perfume it is also what my child has for my sling!
I bought a few different slings and wraps before I had Mckinley and after trying them out I fell in love with my
Maya Wrap
. I got it used off of Spots Corner for about $25, but it has been priceless over the last year,
It isn't very pretty and I would love to have a new one someday maybe in a pretty blue or cranberry color, but I wouldn't trade my brown and green Maya for anything. It actually allows me to snuggle with my wriggly independent Little.
No matter how ugly it is I always get compliments on how neat it is or how happy Mckinley seems in it when we are shopping. I swear it is like natural baby Prozac because Mckinley's whole body seems to relax when she is in it.
Now on to the obsession. I have to hide the darn thing because if Mckinley sees it she screams and tries to put it on me which I lovingly oblige because any chance to cuddle with my girl is ok in my books. The only problem is she won't let me sit down while she is in the sling and after standing for 7 hours at work I am ready usually ready to sit and relax when I get home. So I hide it and usually keep it in the car or the closet, but every now and then I forget and I can hear her coming down the hallway clicking the rings on the floor.
Like I said it really doesn't hurt my feelings that my Baby Girl wants to be close to me so I am not going to complain.